Sebastian
---
A special operator tormented by the failure that ended his career.
A woman convicted of a crime she didn't commit.
To find justice, they're going to have to risk more than their future and their lives.
They're going to have to put their hearts on the line.
---
Sebastian Aguilar lives under the shadow of the failure that ended his otherwise brilliant special operations career. Tormented by a past he can't shake, he can't explain what happened, but he can't forget it either. An ex-Delta Force operator, he's a warrior without a team, a drifter without a home, a man without a future. When his boss persuades him to take on a new mission, Seb knows that trouble lays ahead. He just doesn't know how much danger he's about to face.
Graciela Rose is a woman convicted of a crime she didn't commit. Fine by her. Prison is the perfect place to hide. But when she's suddenly released for good behavior, Gracie finds herself alone, destitute, and under attack, fighting to save the only home she's ever known, which lies in ruins.
When through a mysterious twist, Seb comes to her aid, Gracie has no choice but to rely on this strong, capable, sexy warrior to rebuild her home and her life. By day, they work side by side. At night, he sets her body on fire. Now Gracie has a chance to build a future for herself, and perhaps even for Seb—if they can overcome their demons.
But their enemies are hard at work and neither Seb nor Gracie are safe from their pasts or their secrets. To find justice, to unmask their enemies and survive, they are going to have to risk more than their lives. They're going to have to put their hearts on the line.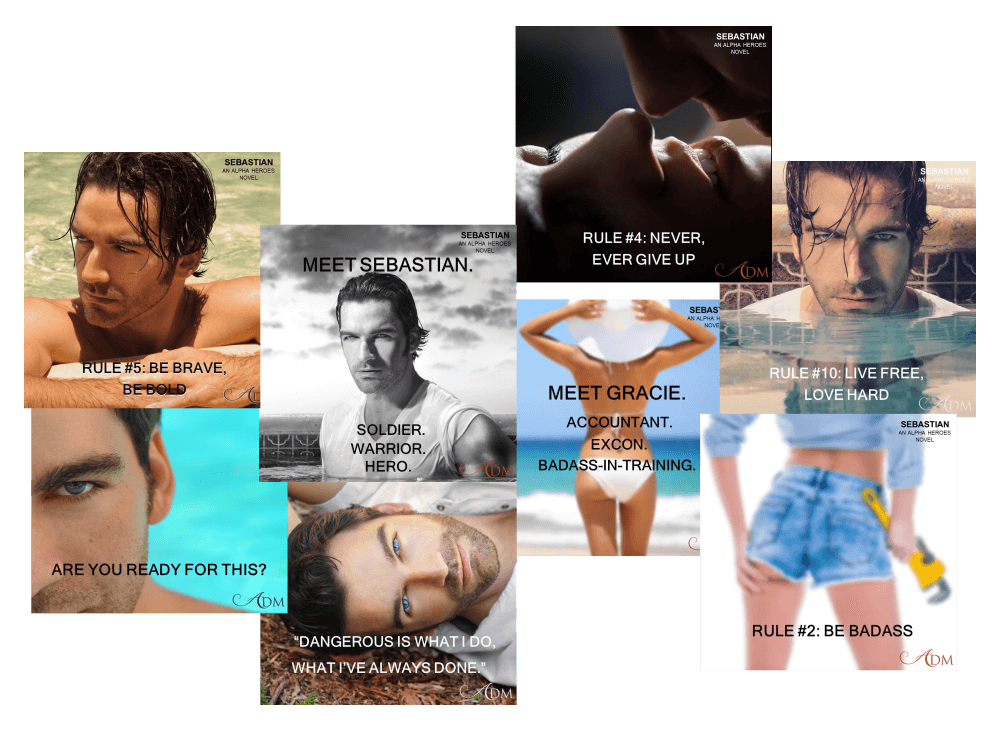 ---
What Readers Are Saying About Sebastian
5.0 out of 5 stars
Awesome story!: "Anna del Mar delivers another great story. Deep rich characters, humor, action, subterfuge and HOT romance. Love Gracie Rose's rules!!!!! They're so simple but awesome. Thank you Anna for another great book on the Alpha Heroes series. Can't wait for Knox Knox 😉😉"
5.0 out of 5 stars
Great, brilliant read: "Couldn't wait to read this book then I couldn't put it down! Amazing read, great way to continue the Alpha Heroes series. Filled with strong characters with twists that you don't see coming. I want to be Gracie and live by her rules!

Anna del Mar at her best, I've yet to read a book by Anna that isn't brilliant. Highly recommended author and series"
5.0 out of 5 stars
Goodreads review: "Quite honestly, I have no idea how Anna del Mar manages to write one brilliant, un-put-downable, smoking hot, and complex romantic suspense novel after another, but that's exactly what she's been doing in her entire Alpha Heroes series, and she's done it again in Sebastian, the sixth book in the series. Her characters have depth, loads of angst, fascinating backstories, and dangerous futures, which all add up to another 5-star read from this reviewer…

Sebastian and Gracie strike sparks off each other the moment they meet, and neither one of them wants to discuss their personal issues, but… it's not long before these two get together, let off a whole lot of steam, and holy Hannah, can Ms. del Mar write an incendiary sex scene!

With the on-again, off-again, sizzling hot relationship between Sebastian and Gracie, there's danger lurking around every corner for both of these characters, and as scene builds upon scene in this fabulous novel, Ms. del Mar has written one of the most suspenseful, exciting, page-turners it's been my pleasure to read since her previous addition to the series. As far as I can tell, Ms. del Mar doesn't have a bad book in her, and Sebastian is no exception--it's a great read and one I'm happy to recommend."
5.0 out of 5 stars
This one is going on my "to be read again and again" shelf!: "This is not your average romance novel, and neither is Anna Del Mar your average author! This book delves deeply into the human complexities that keep us all from living a full life…

When the Battle Brothers organization forces Sebastian to take on the assignment of lending assistance to Gracie's project, he is resentful, to say the least. Gracie Rose is just as resentful of what she sees as unneeded help. When these two highly capable, yet deeply troubled people come together.... that's when things explode in a very big way. A story of protection, violence, romance, determination, humor and redemption with many unexpected twists and turns.... one you won't want to end."
5.0 out of 5 stars
Another amazing read: "This is an amazing read and a wonderful edition to this series.

Orion, who is more than capable, has met his match in Grace. It was wonderful to see her overcome the challenges that thrown her way and find her HEA with Sebastian…Another great read, can't wait for Knox."
5.0 out of 5 stars
Sebastian, Gracie and the Team: "This book has it all...suspense, intrigue, friendship, love, sexy times. This has been an incredible series and each book makes me want more. Can't wait for the next one."
---
Sebastian
Alpha Heroes Book 6
Romantic suspense, Military romance, SEAL romance, sexy billionaire romance, special forces romance, contemporary romance
Publisher: Ashton Publishing Group
Publishing Date: May 26th, 2021
Cover Design: Rocking Book Covers
Edited by: Donna Alward and Sue Higgins
ASIN: B08N41GZKR