Ajax
---
He's a former Navy SEAL, haunted by his past.
She's the only woman who can help him redeem his honor.
But can they overcome the mayhem of his previous life and free themselves from the darkness?
---
Playlist
About this Playlist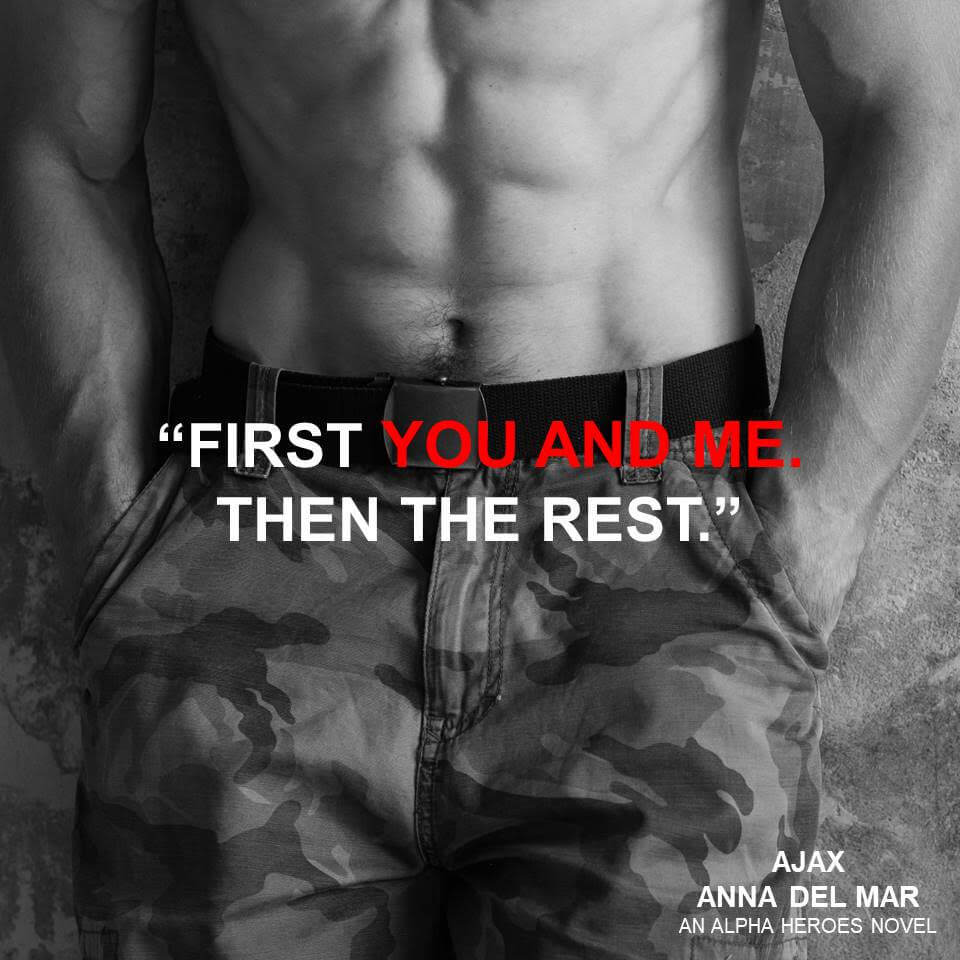 Wanted: One woman to execute the mission that will redeem his honor.
Ex-Navy SEAL Jax Battleson is on a secret mission to fulfill a sacred promise. He needs the right woman to help him execute his plan. He finds her jogging a dark trail in the wee hours of the morning. Problem is, his enemies find him at the same time. And now he's about to lose the woman of his dreams even before they meet.
Wanted: One man who can dispel the darkness that rules her life.
Emme Moran loves the night. She can't leave her house in daylight without risking illness, or worse, death. She's driven, accomplished, and self-reliant. She's also lonely. Even though forevers are not in her future, she fantasizes about the speed demon who bikes along her jogging trail. When he's attacked and she rushes to help, her small dark world is cracked wide open.
Can he overcome the mayhem that ruled his past, free her from the darkness, and seduce her to his side before time runs out?
---
What Amazon Readers Are Saying
5.0 out of 5 stars
"Her men are hot, her women are kick-ass and her plots are a wild, heart-pounding thrill ride.... When I turned the last page, a satisfied sigh escaped my lips. So sit down, buckle up, grab a few tissues, and be ready to not be able to lay this book down."
5.0 out of 5 stars
"One incredible, un-put-downable thrill ride of romantic suspense. Anna del Mar knocked Ajax, the first novel in her new Alpha Heroes series, right out of the park. Engaging characters, and a thrill ride of a plot that grabs you from the very first page and doesn't let go, in my case, until 5:00 a.m. It's a 5-star read, and if I could give it more than 5 stars I would…This is one thrill ride of a romantic suspense novel, and I highly recommend getting this first novel in the series ASAP, finding yourself a comfy chair, a beverage of your choice, and digging into the amazing world of the Alpha Heroes. I think you'll enjoy this novel as much as I did."
5.0 out of 5 stars
"FIVE STARS FOR AJAX!!! COULD NOT PUT IT DOWN!!!There's never a dull moment in AJAX (ALPHA HEROES BOOK 1). From the moment they meet they're either escaping gun-fire, trying to understand the complexities of the opposite sex, or giving in to their intense sexual attraction (wonderfully descriptive sex scenes…) A true page turner!!"
---
Ajax
Alpha Heroes Book 1
Romantic suspense, Military romance, SEAL romance, sexy billionaire romance, special forces romance, contemporary romance
Publisher: Ashton Publishing Group
Publishing Date: February 2, 2020
Cover Design: Rocking Book Covers
Edited by: Donna Alward and Gail Higgins
ISBN: 9798608957864
ASIN: B084G5ZVBY